Most of us have experienced it before; your parents are coming to town at a moment's notice, and you haven't a clue where to take them to dinner. You would happily just take them to get takeaway, but know that they'll want to be impressed. Also more likely than not, they're footing the bill, so leave that takeout menu on the fridge for the night and venture beyond.
So, for all of you wondering where to take your parents when they're visiting Canberra from out of town, here's the answer: a selection of restaurants that strike the perfect balance between adventurous, upmarket, reliable and super delicious.
#1 Capitol Bar and Grill
Located in one of Canberra's hip and happening suburbs – New Acton, Capitol Bar and Grill, or "CBG" as the locals like to call it is an Italian themed concept restaurant located inside QT Canberra. CBG is one of those restaurants where you will leave wanting more and more, which is lucky for you, considering there is SO MUCH to choose from on their menu.
With a concept created by acclaimed Australian restaurateur Robert Marchetti, think of CBG as the place you take you parents if their looking for Italian favourites teamed with prime cut steaks and the wood fired grill. The ambiance is perfect for an intimate meal, or even one for a larger group. Highly recommend the 'Mac n Cheese' – it'll leave your belly full, and mouth wanting more.
#2 Ottoman Cuisine
Let's start by saying that Ottoman Cuisine is the most consistently awarded restaurant in Canberra. Why? Well they're not only a Canberra icon, but they are also a must visit for any gourmet foodie. Ottoman Cuisine offers a modern Turkish inspired menu, which features a great selection and use of fresh local product, seafood, and a gourmet degustation menu.
With its light, fresh and modern décor, Ottoman Cuisine will literally take you on a magical journey to Istanbul. Hidden in the affluent and leafy suburb of Barton, this restaurant is sure to impress any diner with its modern and classy take on Turkish dishes.
#3 Buvette Bistro & Wine Bar
Do you have parents that fancy a bit of French cuisine? Then look no further than Buvette Bistro & Wine Bar. This is one of those Instagram-worthy places, which features a menu filled with a love of French culture, cuisine and traditions. The food in this restaurant is by no means fussy, yet the flavors are still bold, taking culinary cues from timeless dishes of the classic French bistro.
For dinner you cannot go past the Traditional French onion soup for Entrée, and the Bouillabaisse for Main Course. And of course, you cannot visit any French restaurant without diving right into their cheese selection…
#4 Aubergine
Now this is well and truly a fancy pants restaurant in Canberra, that all parents will love. Aubergine is an intimate restaurant, with an elegant décor. The food is contemporary, supplied for local farmers and benchmark suppliers.
With a wine list that has won numerous awards, and has over 500 labels, you and your parents will be absolutely spoilt for choice with some interesting and classic wines. Aubergine has been awarded 2 SMH Chef Hats, listed in John Lethlean's Hot 50 Restaurants and Gourmet Travelers Top #100 restaurants. You may even see some high rollers or well-known pollies while you're there too!
#5 Akiba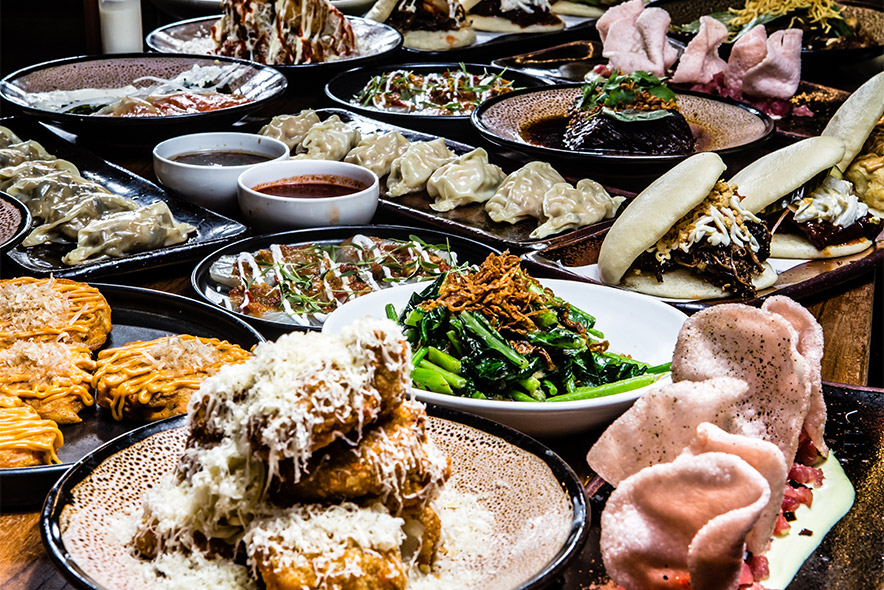 This restaurant is more on the affordable side, however trust us when we say that you're going to love the food so much, you'll just keep ordering and ordering as the night goes on.
Akiba is one of Canberra's newest, and greatest restaurants, and continues to be a place to be seen. This is a buzzy restaurant that showcases Asian cuisine with a modern twist. Think steamed buns, fried chicken (yum!), noodles, and dumplings, all washed down with some very interesting and super delicious cocktails.
One tip, book this restaurant well in advance, as it tends to fill up quick!
Image source: Capitol Bar and Grill, The Food Pornographer, So Frank, Canberra Wines, Akiba.