A wisp of African spice and a vibrant current of colour that flows from the city market stalls through to the landscape itself, Morocco is a destination that will make you feel a world away. Not exactly a prime destination for the Contiki tour bus to roll through, Morocco can often get a bad rap as a stop for solo travellers, especially of the female variety. But fear not, with immense hospitality, warm locals, sufficient research and a savvy disposition you'll be wandering without a worry.
Stay In A Riad
With tiled facades and a safe recluse from the heat, staying in a riad is you best option. You'll get your own space when it comes to sleeping but enjoy the sociability of the shared common spaces. Think of it like a communal house or an upscale hostel, swim with new friends but go to bed alone. No judgement on exactly what time you nod off either, we get it roaming the desert is tiring business.
Brush Up On A Little Arabic Or French
A little local lingo will make the difference between you freaking out and being aware. Moroccans can be loud and pushy if you don't understand the language, especially when it comes to the bargaining in the souks or the unwanted advance of men in the streets. Grab yourself a pocket book or download a language app to help you along the way. Miscommunication is every traveller's worst nightmare, let's be real. It'll save you from getting ripped off too.
Dress The Part
Although it's likely to be steaming hot for the duration of your say, pay mind to the local dress code. Although it's not essential to run about in the full religious garb, it may make female travellers in particular feel more comfortable to carry a scarf or shawl just in case. In the resorts it's no matter, nor the tourist heavy streets, but Morocco has strict laws about tourists surrounding mosques and you'd be wise to dress respectfully around these areas to avoid attention. Look for lighter fabrics like cotton and linen when you're packing and you won't swelter as the degrees rise. Knees and shoulders are ideally draped any time you're in public.
Be Aware Of Local Customs
Moroccans are extremely hospitable to the flurry of tourists that come to explore year in and year out, but it's key to brush up on local culture before you depart so you don't inadvertently offend. Check the calendar before you arrive, if it's Ramadan (a time when Muslims fast from dawn til dusk) don't eat or smoke in the streets. Year round, kissing, cuddling are taboo and generally being spatially aware is best, so you're not disrupting anyone's day. So keep that new found foreign fling heated, but behind closed doors only. Punctuality is not valued highly here either, so don't fret if your tour doesn't start to the hour.
Start Your Day Right
A coffee a day certainly doesn't keep the doctor away, but it will let you take in your surroundings and get your bearings before you explore. Head to a cafe near the main square or a rooftop option, download your maps for the day before you set off. Since you're handy with the local tongue now, why not ask your server for a tip or two? Locals always do it best.
Carry Cash
When you travel in a pack it's easy to pool enough cash to settle your bill – no matter the denomination. But when you're riding solo it's important to be self sufficient down to the last cent. It'll save you navigating streets in the evening trying to find an ATM and stop you getting rorted by shopkeepers that lack change.
Wander The Souks With A Guide
What did I say about locals? They know exactly every nook and cranny worth your precious time and your dollar. It's easy to get lost in the maze that is the souks or lose yourself in the hazy city square; a guide is a small price to pay for making it home in one, sane piece. Think of them like your wingman for the day, haggling and pointing out the finest craft works like an expert. Plus your likely to meet other savvy travellers as you shop on the guide led expedition too.
Take A Break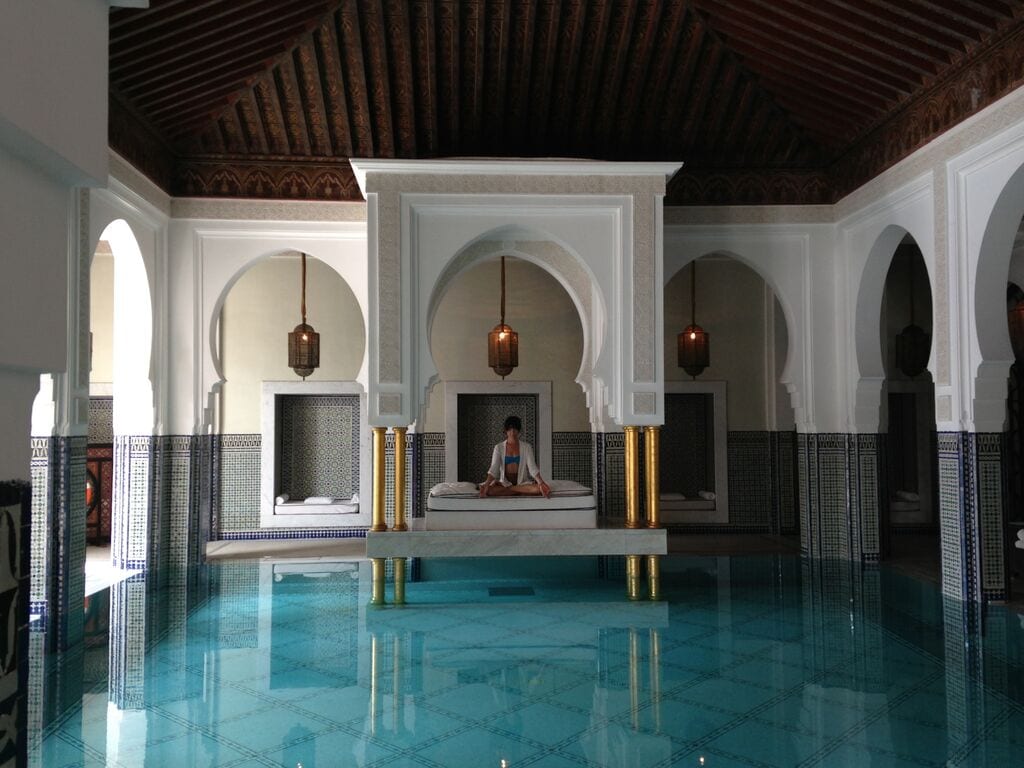 Travelling alone is stressful, so make time to get reacquainted with yourself away from the vibrant bustling streets. Morocco is a hot new spot for health retreats, yoga camps and day spas, so book it in after a long day of roaming and you'll feel ready to take on the city on foot without hesitation. These stops are segregated by gender, so it's the perfect time to reap the rewards of rolling with a party of uno.
Treat Yo'self To Dinner For One
Dining alone?! Back home it may be terrifying to venture to the cinema, a cafe or god forbid a restaurant without a cutlery wielding mate along side you. Travelling alone brings with it challenges and this is one in particular you're just going to have to get over. Morocco is the perfect place to shed those inhibitions and eat solo with joy, thanks to the laid-back atmosphere and evening cafes serving up tangine into the early hours. Order for two and really tuck in.
Pick Your Base Wisely
Some locales are safer than others and while you may want an authentic experience, those stops aren't as easy to reach after a long day doing the tourist rounds. Look for locales with a heap of stay options if you're unsure where to rest your weary head, the AirBnB map will help you immeasurably. Keep this in mind especially in rural areas, as it may be cheaper to click but after a handful of cabs that saving doesn't really add up.
Get Your Haggle On
Playing it cool should be the very first page of the solo traveller's guidebook and is it no more important than when it comes to bargain shopping. The vendors are experienced in the art of the barter, but don't let that put you off. Mastering the walkaway is trickier when you're rolling solo, but it's a necessary move to ensure you get a fair deal. Make sure to have a price in mind and haggle within this range. Otherwise you'll end up coming home with a full suitcase and an empty bank account.
Be Smart When Grabbing A Cab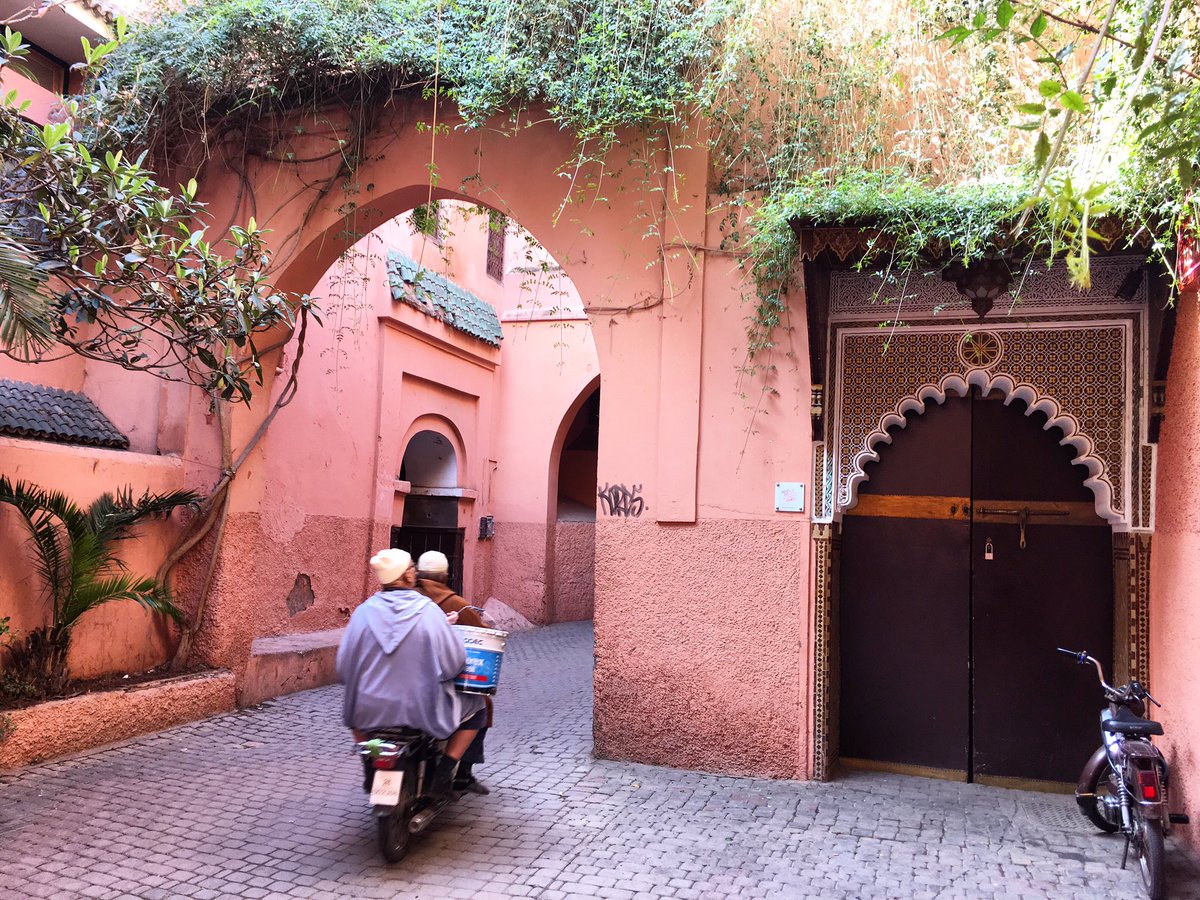 There is no fixed price for the taxis that cruise around here, so make sure to lock in a price with your cabbie before you depart. As soon as they realise you're a tourist, they'll likely turn off the metre all together. Get an idea of reasonable prices from your hotel concierge or AirBnB host, the more rural you get the pricier it'll be.
Image source: Booking.com, Not Jess Fashion, Song of Style, Verite Publishing, Keir Alexa, The Blonde Salad, Larissa Costea, SMF Blog, Soul Seed Media, Olivia DiNucci, Trotter Hop.