It may be the dead of winter but we are Australian damn it; when the opportunity comes to celebrate ice cream sandwiches in a day of glorified appreciation, we take up that honour and eat. Across this sunburnt land dripping Maxibons are a summer staple, a wondrous alternative to loosely gripping a paddle pop stick precariously as the ice cream melts at rapid speed. So celebrate ice cream sandwiches in style and enjoy all the masterpieces on offer from Brisbane to Adelaide and everywhere in between. Winter weight gain is not guaranteed but comes highly recommended.
Melbourne
Biskit Bar
Melbourne is the indisputable home of good food in Australia and Biskit Bar is no exception. Starting out at at festivals and markets this travelling band of geniuses take ice cream sandwich flavours to a whole new level. Biggie S'mores, is a choc-raspberry waffle with a generous ice cream dollop and an ooze of pink marshmallow sauce, sure to make the big man himself proud. Track them down and see where about they'll be taking up residence yet, you won't regret it! Follow them here.
Bibelot
Bibelot is a patisserie in South Melbourne whipping up delightful little morsels day in and day out, but their ice cream sandwich is particularly special. Two home made brioche buns, a helping of your choice of ice cream and a drizzle of milk or dark chocolate sauce, so many choices not enough time. Research the range of flavours before you go here, to avoid being overwhelmed by the array of choices.
Sydney
Pazar Food Collective
You know they mean business when there is multiple ice cream sandwiches on offer. Pazar Food Collective is a cultural explosion of flavours, drawing on Turkish, Persian and Mediterranean flavours and bringing them straight to your plate with finesse. The Churros Booza Sandwich comes in two forms, a sugary churro outer casing with a choice of choc cinnamon or fig-walnut tahini ice cream centre. The former is served with hazelnuts and airy floss and the latter chewy pomegranate molasses. We recommend getting both to ensure you make an informed decision. Check the rest of the menu for yourself here
Cremaria de Luca
Artisanal gelato sandwiched between sugar dusted burger buns with a spoonful of Nutella? Don't walk, run. This Five Dock institution has spun a twist on authentic Italian gelato offering their famous gelato burger served to your liking. Pick a flavour, pick one or two scoops then dive in. This one is a foodie favourite and heralded on Instagram as a "Sicilian delight". Salivate over the rest of the menu here.
Canberra
The Fish Can
A dessert bao? A doughy sandwich filled with sweet potato, taro or green tea centre, sign us up. Canberra's offering reflects the wonderful twists built upon the humble ice cream sandwich. Taking the delightful bao and filling it up with complimentary oriental flavours, perfect way to end a night of dumplings. Survey the menu for yourself here, make sure to bring a crowd so you can share amongst yourselves.
Adelaide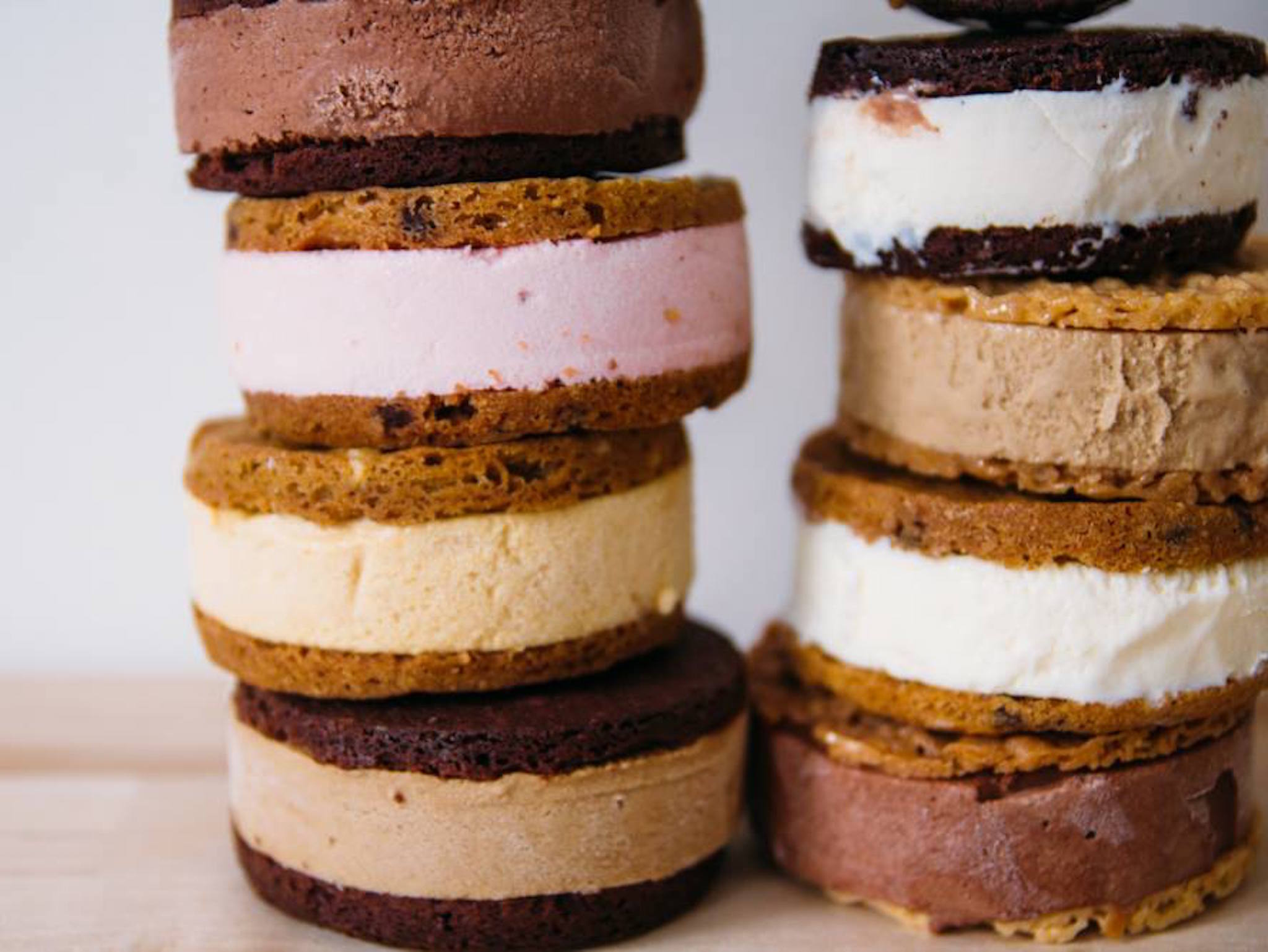 Pat and Stick
Pick your cookie casing, pick your icy filling, Pat and Stick are a great upgrade to your post dinner treat. Espresso Lace, a delicate almond lace cookie holding espresso spiced ice cream or double chocolate, a fudgey cookie filled with chocolate ice cream are our picks. You can pickup these delicious gems at a host of stockists across Adelaide, see where here.
Brisbane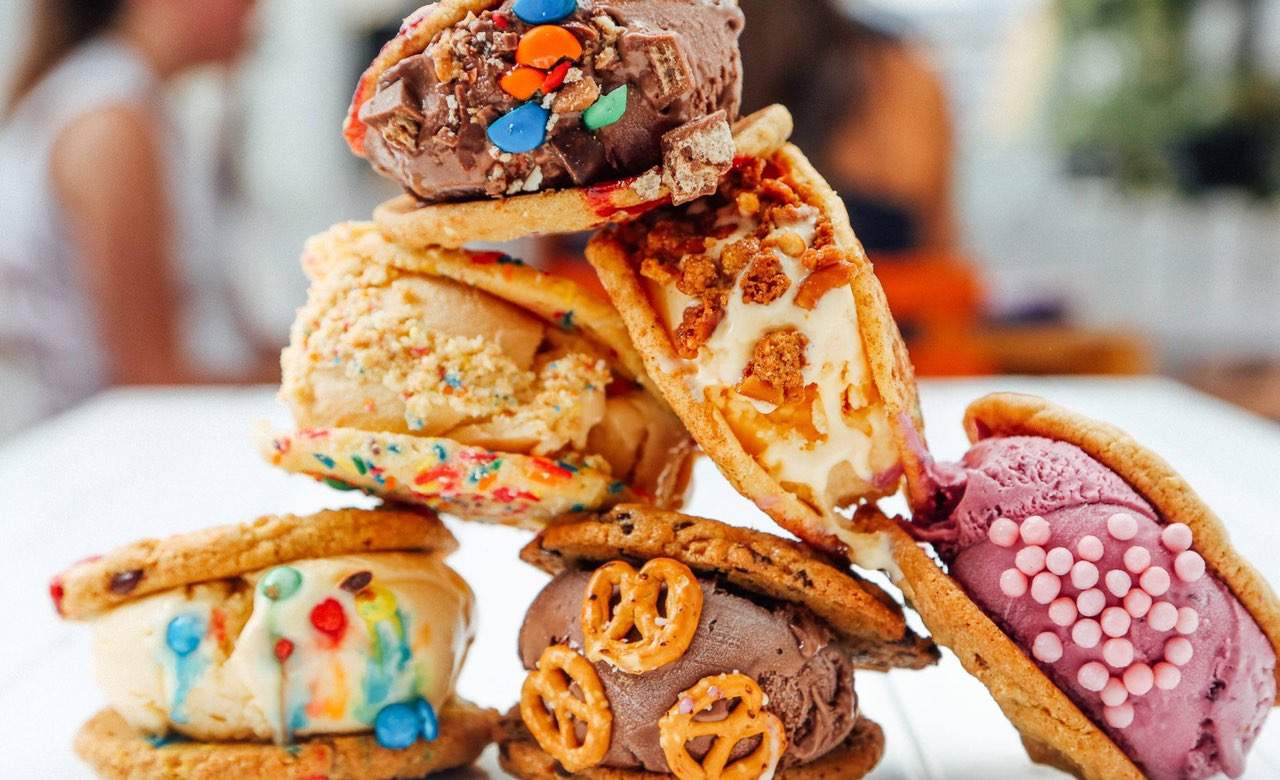 Mister Fitz
From the gods that brought us Doughnut Time, Mister Fitz is a ice cream sandwich parlour of your dreams. The nostalgic setting is made even better by the extensive menu, think pink salt and banana, brown sugar & bacon ice cream amongst a host of innovative flavours. You'll feel all Sandy and Danny at the diner while tucking in which only heightens the magic cookie and ice cream combination! Find a location close to you here
Perth
Kitsch Bar Asia
Hidden amongst this open air venue and extensive nibbles menu is an ice cream sandwich worth travelling for. The peanut butter ice cream sandwich, held together by chocolate cookie and a swirl of salted caramel sauce is to die for. Like a grown up Snickers, a hand held slice of heaven taking classic flavours and sandwiching them together for your convenience. Have a squiz at the menu here, I'm not lying.
PS. If you can't make it to one of these fine establishments I have been reliably informed by the wise members of The Fatty's Burgers Appreciation Society that McDonald's serves a delicious DIY ice cream sandwich. Order two brioche buns and a swirl of soft serve as the filling, extra points for maple syrup. Go on, indulge.
Image source: Mister Fitz, Time Out, Essentially Fashion.