Consider that carefully shot 'gram, proof of paradise. If you didn't take a photo every day, did you even really travel? Technically yes, but in modern terms certainly not. And a place as picturesque as Bali is no exception, with plane-loads of Jetstar carried Aussies making the pilgrimage every week. If like us Insta provides travel inspo beyond your wildest dreams, we're here to make your dreams come true. Well, if those dreams are nailing your Insta game while on holiday. Make memories worth recollecting and trace your way through Bali's beauty, one spot at a time.
Tegalalang Rice Field
Roam the fields and get a little slice of rural life for yourself. You will have to pay to walk up the road and capture a shot like the one pictured above, but at least there's no hard labour involved.
Old Man's
A tourist hotspot, this beachfront beer garden is a must on any Bali itinerary. The laid-back vibe exudes that holiday slowdown you've so longer for, stay for one drink or seven. Just don't forget to capture it, you're likely not to remember after the sixth cocktail.
Motel Mexicola
Even if you haven't crossed into the tropical beauty that is Indonesia before, you know this place. All technicolour cantina and vibrant tiles tessellating wall to wall. Motel Mexicola offers a chill section upstairs and a party palace downstairs, so take your pick.
Uluwatu Temple
Making up one of the six key spiritual pillars in Bali, Uluwatu Temple perched on the edge of the sea is a sight to be marvelled at. Steeped on the cliffside, once you make your way up be sure to capture the shoreside beauty for yourself. Just please refrain from overdone yoga poses, please.
Nook Bali
Wade into the heart of the paddies at Nook, a restaurant with an unrivalled lush green view. Take your scooter or vehicle of choice out to this little oasis for a meal to remember. Oh and an envy inducing photo too.
Hanging Gardens Ubud
Infinity pools, the mind bending bodies of water that make that pool soak even more delightful. Hanging Gardens is no exception, pour yourself into the pool and you won't want to leave. If you can't afford the 5 Star resort for your entire stay, the day pass is all swim, all day and no credit card debt.
Potato Head Beach Club
The bread and butter of any Bali trip, Potato Head Beach Club is nonetheless spectacular. Sunsets roll in with the tide, which is inches from you as you sit poolside. There's excellent architecture in the adjoining space if you feel so intrigued.
Living Stone Bakery
Thanks to the steady influx of Aussie tourists, you'll have no issue finding brunch spots in Bali. Living Stone Bakery is light, airy and instagramabble from every angle. Not to mention the food is particularly photogenic.
Sea Circus
A travelling group's ideal pit stop, order a bunch and pass it around. The colourful facades and illustrated walls make for plenty of happy snaps.
Tanah Lot Temple
Could you pick a better spot to watch the sun glide past? Not likely. Tanah Lot Temple is as beautiful afar as it is treasured. If you're planning to cross over onto Tanah Lot, be careful to plan your visit – high tide seals the temple off to visitors.
La Laguna
A quirky little oasis weaved in greenery and plush little seating arrangements. Feast on local fare and gaze out over the bridge to the beach, which also makes for an excellent photo keepsake. The parties here are raved about too.
The Datu Swing
The classic ocean swing that spawned a number of copycats. The Datu Swing is a must for any serious 'grammer, a cliche that has earned it's own on tourist's to do list. For all the shots you've seen, it's still incredible.
Grocer and Grind
Great food and great decor, a meal at Grocer and Grind will feel like you've stepped in between magazine pages. All colour and refined style in perfect measure, we recommend the pizza.
Single Fin Uluwatu
A classic wave rider's perch, looking out over the ocean all day and all night. Single Fin isn't just a spectacular view, it's a right of passage for those new to Bali. Take your speciality drink and carve out a spot on the deck and watch the sun come on down. Magic.
Gitgit Waterfall
What is it that's so enchanting about waterfalls? With the proliferation of waterfall chasers of late, we suspect it's the magic pictures that come with a visit. The twin falls are unique in beauty and the space although touristy, blissful to stop at.
Rock Bar
If you enjoy your drinks with a view, this is the perfect recipe for an evening to remember. The bar is within the Ayana Resort, so expect the prices to reflect such extravagance. But for the view, we're happy to pay a premium.
Campuhan Ridge Walk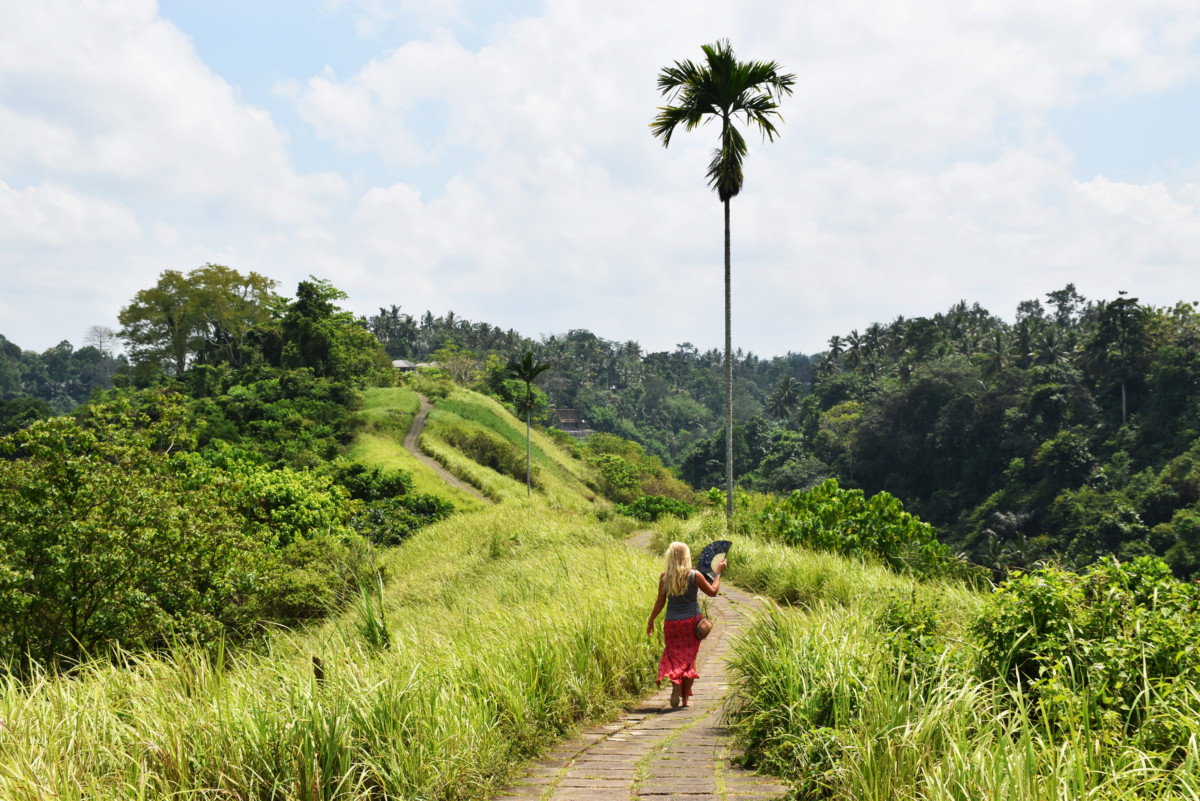 Take yourself nature side and hike the ridge walk to start your day. Beat the crowds at sunset and head instead for a morning stroll, the early light is like a Valencia filter in real life.
The W Hotel Petitenget
From above, by the beach or from your room, The W Hotel is stunning no matter where you stand. It's such a popular spot for photos the hotel security are a little stringent on who takes photos, which makes getting your shot a mission worth of Mr Bond himself. Challenge accepted.
Angel's Billabong, Nusa Penida
Given the right swell you can swim in this lagoon, which earns it's angelic status without struggle. It's worth the winding journey down the rocks, so soak in the water before making the climb back up.
Sunday's Beach Club
Fancy a private beach? Look no further. Sunday's Beach Club is all crystal white sand, glistening blue water and luxury in spades. You may know it as Beach Club, but mid last year saw the tranquil spot renamed. This is just the view on the way down, it's so pretty you'll need an extra SD card to capture it all.
Pura Luhur Lempuyang
A site so enchanting you'll be reluctant to leave. Known to locals as the gate to heaven, dress appropriately and you can roam in absolute peace. Make sure to get a photo in between the "gates", and gaze out over to Mt Agung in a state of newfound relaxation.
Revolver Espresso
If you haven't seen a winged Bali shot, perhaps you don't even have Instagram. Revolver Espresso although churning out delectable coffee is known moreso for it's interior. But the lesser known shot is the glass table filled with currency hidden inside, it will make your eggs benny look even better!
Are you headed to tropical heaven? Now you've picked your eats and sights, organise your local sim before you leave with FindMyPlan. All organised for you before you leave, so you're online as soon as you land. Enter $5WHY at the checkout for $5 off, you're welcome. Make sure you can 'gram the scenery, keep Mum updated and find your way home this foreign paradise, hassle free.
Image source: Tuula Vintage, Daisy Banard, Urban Walkabout, Tia Fox, Lian Galliard, Substance Blog, Cherry Blossom Street, Redita Abigail, Backpacker Lee, Wanderlove World, Trove, Moustache Magazine, The Bali Bible, Lonely Planet, Mulpix, Cape Coconut, Eats and Treats, Where Were We Went, The Asia Collective, Bali Kids Guide, Sunday's Beach Club.