The traditional to dos on the road to marriage have changed immensely in recent years, so if you're planning on popping the question you'll be needing a new rule book. Gone are the archaic standards, religious confines and gendered roles, depending on your parents of course. But for many trying to navigate the path to long term commitment is a doggy paddle exercise in desperation to stay afloat. Hopefully the decision to ask for another's hand in marriage was easy, now the tricky part is finding the right adornment to seal the deal. Here's the ultimate bible to go from down on one knee to the aisle without worry.
Workout How Much Cash You've Got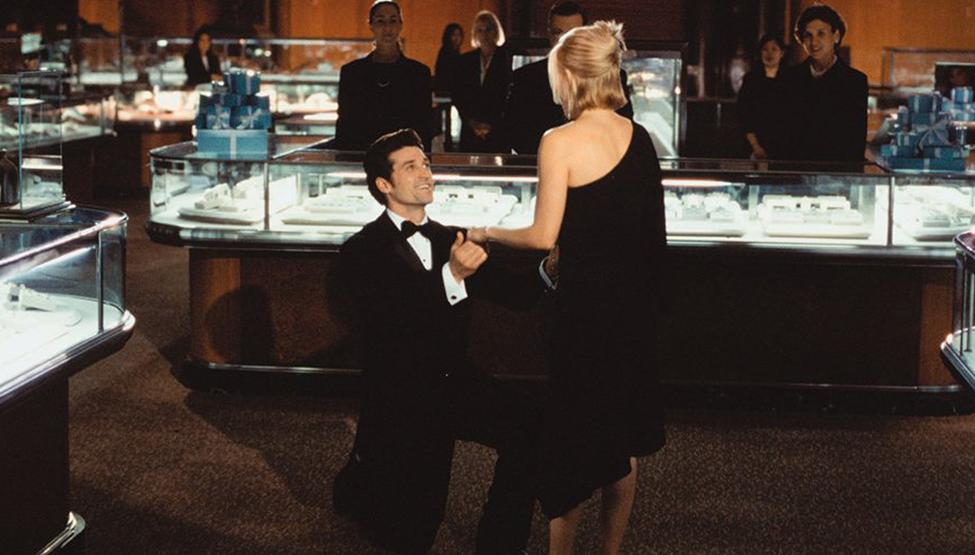 Not to alarm any of you prospective ring shoppers, but traditionally the groom would drop one to three months of their salary on the ring. If you weren't planning to set aside a house deposit buying a house, how novel, make sure you plan how much you can afford before you go out shopping. Although the glitter of the jewellery store is unlikely to blind you, in the frantic search for the perfect ring you may end up spending more than you can afford. Every man, woman and child will have their own opinion on how much should be spent on the ring of a lifetime, but this is one time to think for yourself. I'm sure your wedded to be would prefer a carat or two smaller rather than marrying into a lifetime of debt. Be generous but responsible with your ring budget.
Know Your Shit
Jewellery stores or custom craftsman can be an intimidating place for the uninitiated, so make sure you do your homework. Otherwise you risk getting ripped off for your lack of expertise. Have an idea of what you're looking for and a budget ceiling in mind, with a little wiggle room of course. Don't be a douche about it, your one evening of reading up isn't going to impress a tradesman of 20 years plus, just don't be led astray by the glimmer of a deal too good to be true.
Colour It In
Diamonds may be a girl's best friend, but when it comes to the main event of the ring, not every woman is the same. Have a peek at their jewellery to get an idea of colourings if you're unsure. If you think beyond the crystal clear diamond look, you can get a bigger gem for your buck. Sapphires are cheaper than diamonds per carat, making for a captivating centrepiece. And you may not know that they're not only dark blue in hue, but come in yellow and rose too depending on your partner's preference.
After you've chosen the gem, you have your choice of metals too. Most wearers will have a preference, but it doesn't stop at just gold or silver. Platinum, white gold and rose gold are all options too beyond your everyday jewellery ware, so consider what would in best seamlessly. Not all metals are made equal when it comes to cost, but we'd advise against buying silver in an effort to save. One last thing to consider is what colour you'd like to wear too, often couples will get matching wedding bands in the same colour scheme as the engagement ring, so be wary of choosing anything outside your comfort zone.
Don't Forget A Single C Word
Hey, not like that. Finding a ring may be difficult but no need to be brash about it. I'm talking about the four C's of gemstone shopping, clarity, cut, carat and of course colour. For the beginner to jewellery shopping you may only be familiar with carat, but you shouldn't let that govern your choice strictly. It's best to lean more towards style and personalising your choice with the wearer in mind rather than going all out on sheer weight.
It's a balancing act between the four C's when you shop for a diamond, as with proficiency the price goes up. Colour is pretty self explanatory, but carat refers to the weight, clarity the number of flaws, and cut the amount of sparkle in the light. One thing to note is that cut is different to shape. When the shop assistant starts throwing words like pear shape, princess cut or teardrop at you, fear not they're just talking about the shape of the diamond.
Think Vintage
If wandering the minefield of a jewellery store bombarded with choices scares you half to death, why not think vintage. An antique ring may be just the answer depending on your lady's style. They're trickier to customise but if you find the one, it comes with a little added personality.
Consider Custom
A new trend among discerning young gents is the custom ring, a ring built from the stone up to your specification. Often it's a lovely personal touch for your bride to be and even more cost effective too. A custom ring let's you design the perfect piece to your budget and partner, it's a win win really.
If The Ring Fits..
Oh god, please borrow a ring of your intended recipient and get it sized properly. How to dampen the mood of a proposal quick smart is the alternative title for a over thought such as this. Just don't get caught peering over her fingers in the weeks/months prior, it may seem a little odd.
Image source: Time Magazine, Deadpool, Teenage Hack, Typepad, Ask Men, Nova, We Write It Right,