A suit makes a man look perfectly suave, no? Agreed. But, have you ever wondered what pulls your suit together to look perfect? Well, it's the accessories you match up with your suit that gives it a complete look. That polish.
Are you somebody who avoids accessorizing the suit merely because you don't know how to do it perfectly? Fret not. We have a detailed guide for you to help you be a pro at matching up one of the most elegant suit accessories – the pocket square!
Handkerchief dates its roots to Shakespeare's time, way before even suits became popular. For obvious reasons. Those of you who were dozing off in the English Literature lecture in school, it's been used as an important plot prop in Othello.
Ever since pocket squares have become a sartorial affix for the modern man. Whether silk, linen or cotton, plain, checked or patterned, the pocket squares have the potential to make even an average looking suit appear A-grade. And that is why you see celebrities and politicians alike proudly sporting a pocket square in their breast pocket.
So, how would you become pocket square proficient? We have penned down a few simple rules for you to nail this art.
No Matching
One of the biggest no-no for pocket squares is matching them with your tie. Never do that! It nullifies the purpose of wearing that accessory. It should be in co-ordination with rest of your outfit. For instance, if you are wearing a black tie then just a hint of the same color in your pocket cloth will be enough.
The Right Patterns And Colours To Choose
While there are endless combination possibilities, let's get you started with the basic essentials that you can experiment with right off the bat. Solid styles are an absolute must to have in your wardrobe. They look elegant and are easier on the eyes – you can never really go wrong with the plain colours.
After you get your solid colours base covered, you can confidently move towards patterns. Go with checks, paisley and polka dots either in rich tones like bottle green, royal blue and burgundy or neutral shades like black, grey and white. Depending on how bold your suit is of course.
Keep It Clean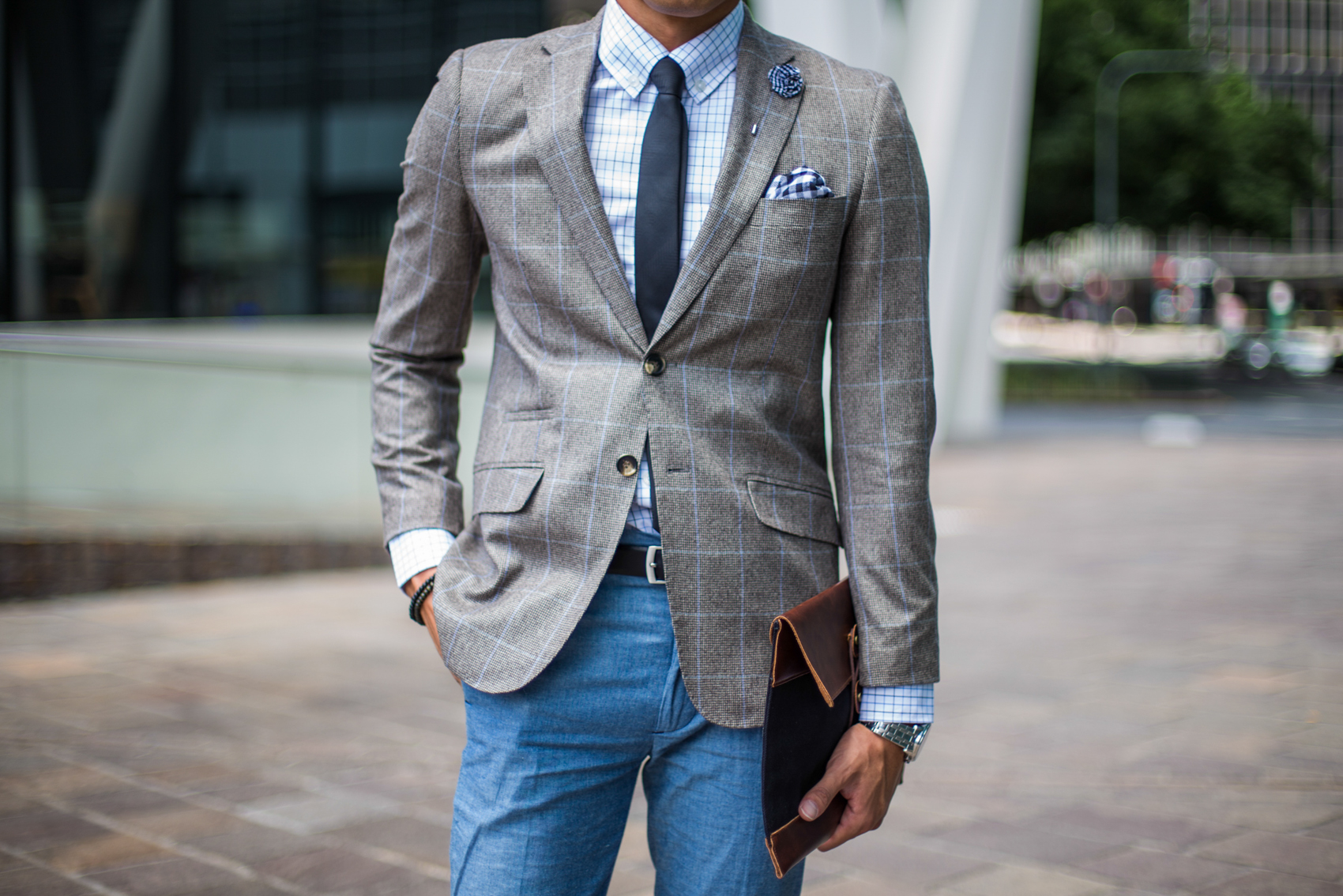 Pocket squares tend to be tugged and tweaked a lot during the day, thus making them look dirty or dull at times. Make sure you avoid touching it. A pocket square is meant to evoke a smart and neat vibe, adding to your appearance. So if they're not looking their best, ensure to replace or get them washed. ASAP.
One For The Show, One For The Blow
If you feel that you need a handkerchief throughout the day to blow your nose or other essential requirements, then it is suggested for you to keep a spare one in your hip pocket. As much as possible, avoid using your pocket square for such eventualities. Yo
Styling the Pocket Square
Before you begin to stock your wardrobe with pocket cloths, it is essential to learn how to style them correctly. Choose among the below mentioned time-honoured folds and you will never go wrong with its styling.
The Classic Square Fold
It is probably the most versatile and easily done fold. Whether you are wearing a stylish tuxedo or a formal blazer, it looks classy with everything.
Instructions:
#1 Unfold the square completely.
#2 Fold the square aptly to the width or your blazer or jacket pocket.
#3 Make another fold from bottom to make a rectangular shape and it should be half an inch longer while being the same width size of your pocket.
#4 Finally, place the bottom folded edge in your pocket and adjust it in such a manner that just one smooth stripe of your square fold is visible at the pocket's top.
The Eye-Catching One Point Fold
Though it is not much taxing when compared to the square fold, it definitely looks more stunning.
Instructions:
#1 Fold your square in such a manner that it looks like the shape of a diamond.
#2 Make another fold over the diamond so that it covers itself. You can fold the corners of the triangle base as much as required till it is of the same width as your pocket. Just keep in mind that it looks like an envelope.
#3 Place it in your pocket in such a manner that the only thing that is visible outside the pocket is a triangle.
You can begin your pocket perfection journey by mastering these two folds. And make sure to master them before moving to two-point, three-point or casual folds.