First it was the scurry of rats sprayed across London, then as his star rose graffiti littered the streets like never before. Now ever ink spot by his hand is heralded as art. Just last year he turned his mastery into a full on amusement park in Paris for a moment or two, aptly named Dismaland, and this weekend saw him pop up even more unexpectedly. Crafting a hotel in a most contentious location, Banksy newest installation is the Walled Off Hotel located in Bethlehem. Perhaps too far to travel for some, but we've rounded up a whole host of Banksy tidbits that still exist for your viewing pleasure. That is, until the owner of the defaced wall saws it off and sells it to the highest bidder.
#1 Old Skool, London
A traipse down Clerkenwell Rd in London and you'll be greeted with this Banksy winner. All attitude, all music and a whole lot less topical than his usual musings. It's sassy and photogenic in equal measure. Just don't give away your tourist status to discerning Londoners by taking a photo too obviously.
#2 Hammer Boy, New York
The bricks of the concrete jungle hide many a Bansky work, but many are faded or vandalised before the paint has time to dry. But Hammer Boy on the Upper West Side is of particular fanfare with locals and tourists alike. Now protected by perspex glass, the silhouette work depicts a child working away, a favourite muse for the UK artist.
#3 Grafitti Area, London
If you fancy your art with a pint, then this facade is for you. Grab a fresh pour and saddle up next to Banksy's work at Cargo Bar, Shoreditch. It's protected by perspex and larger than most of his more discreet works. A brilliant take on his own fame, making light of graffiti as an art rather than an act of rebellion.
#4 Spy Booth, Bristol
In the suburb of Cheltenham, Bristol, sits a telephone booth gone rouge. Banksy took to the street with retro espionage characters, only a few blocks down from a government listening centre (the British version of the NSA). Framed perfectly for the quintessentially British booth photo op, with a topical twist.
#5 Steve Jobs, Calais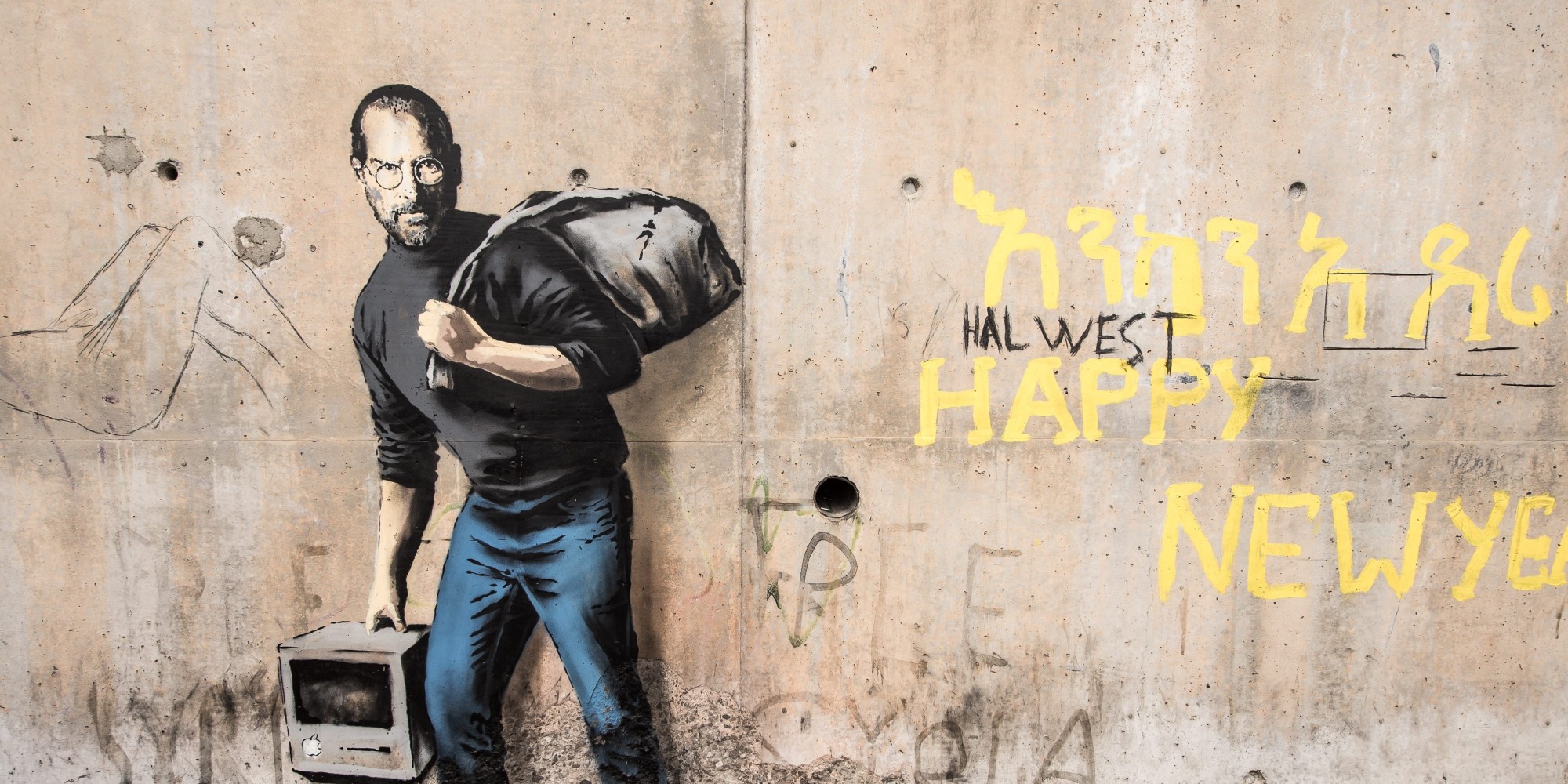 Not that it's likely you'll be venturing to the town on the edge of France, but this work was too good not to mention. Before you cross the channel off into the great British yonder, you'll find a 2D Steve Jobs escaping the refugee jungle wall side. A pointed reference directed at Jobs' family history and the lack of compassion in refugee policy. Jobs' parents were Syrian migrants and without their pilgrimage cross country, our technologically engrossed life today wouldn't be the same.
Image source: Banksy London Tour App, Tracys New York Life, Flexi Offices, Wide Walls, Huffington Post.