Russia is one of those countries that has a lot of people nervous to visit, for many reasons. But with the World Cup on it's shores now, all eyes will be fixed on Putin and co.
As someone who's been to Russia, and loved it, I can tell you that it is definitely worth the trip (and the visa hassle). Russia is home to incredible history, culture, art and architecture, and is surprisingly affordable. However, if you're headed to one of the larger cities (namely, Moscow or St. Petersburg), you are likely to get overwhelmed, especially since the list of tourist attractions, museums, palaces and cathedrals is so damn long. So, we've compiled a list of definite must-sees for first time Russian tourist.
Hermitage Museum / Winter Palace – St Petersburg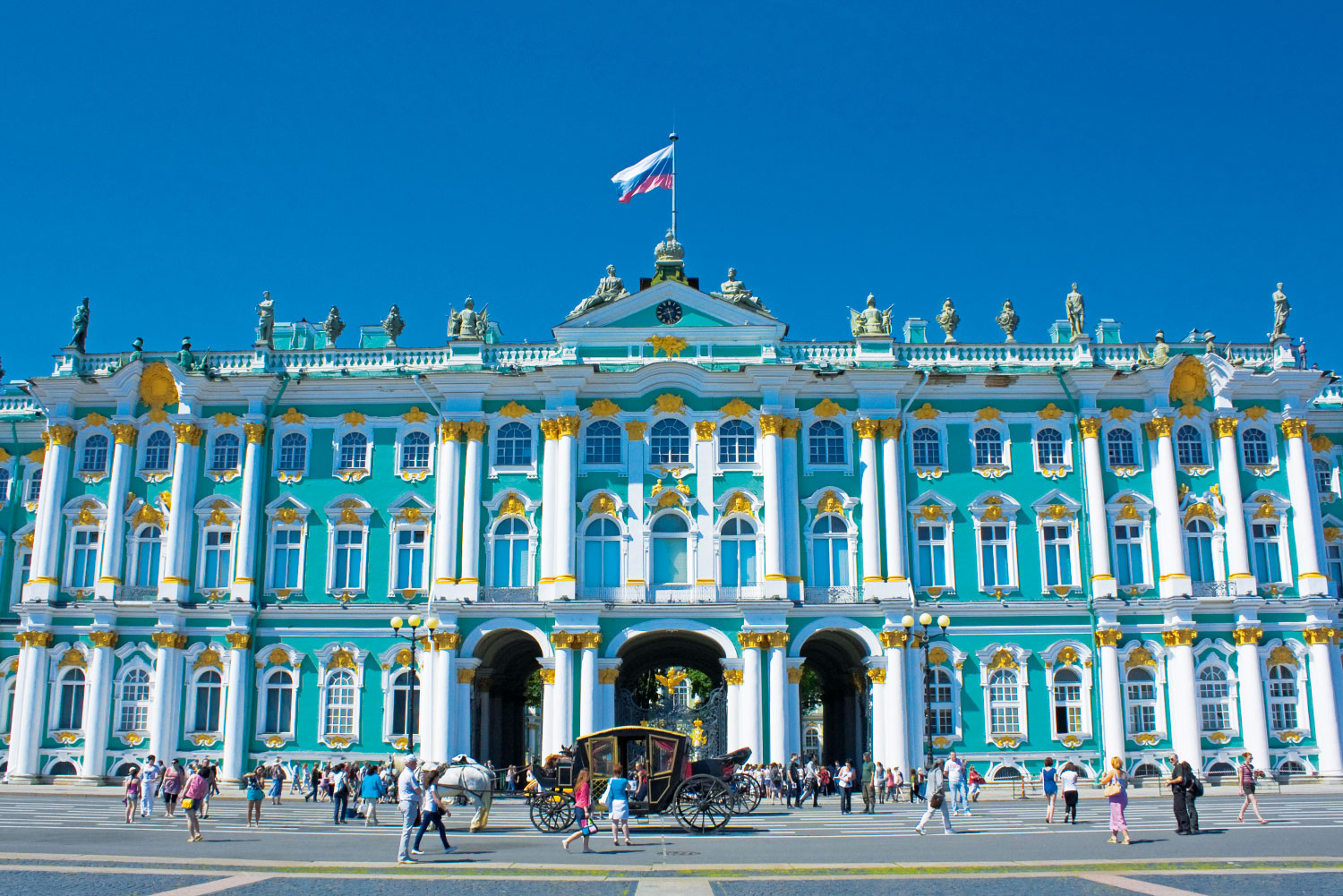 The State Hermitage Museum, founded in 1764 by Empress Catherine the Great, is the largest in the world. It is comprised of 6 buildings (one of which is the Winter Palace) and holds over 3 million items in its collections. Needless to say, for any history/museum/art buff, the Hermitage Museum is a definite must see. Like the Louvre in Paris, seeing the Hermitage properly, will take the majority of your day, especially if you want to take your time admiring the works on display here. You'll also have access to the corner of the Winter Palace that is open to the public and breathe life into the world of Anastasia. While the rest of that movie wasn't real, the Palace definitely is.
The only downside to the whole Hermitage experience is how unbelievably busy it can get, so my suggestion would be to try and go during the off-peak season and avoid the school holidays and such. For those of you on a budget, that happen to find yourselves in St. Petersburg on the first Thursday of the month- lucky you, it's free!
Metro Stations
Just travelling the Metro in Moscow (or St.Petersburg) is an adventure in itself, and being one of the cheapest (and most punctual) public transport systems in the world, it is the perfect way to get around and see the city. The underground stations in these Russian cities are spectacular, and in Moscow, especially, they are a huge tourist attraction, you'll even find 'ideal selfie spots' marked out on the floor. In true Russian style, they do not hold back on extravagance and with no two stations alike you're sure to find one you love, adorned with sculptures, murals, chandeliers and all the bright colours. Unlike many (most) other cities, travelling the Metro in Russia is actually a really pleasant experience, they are extremely clean, plenty of security, lots of signage (in English as well) and many of them now have free wifi as well (apparently to attract the younger generation). Plus, as I mentioned before, it is extremely cheap and punctual, so it really is the perfect way to see the major Russian cities of Moscow and St. Petersburg.
Some suggestions on which stations to see in Moscow: Komsomolskaya, Novoslobodskaya, Kievskaya, Arbatskaya, and Ploshchad Revolyutsii.
Cathedrals (Any/All)
When one thinks of Russia, a few things come to mind- fur hats/coats/everything, Vladimir Putin and, of course, Orthodox Cathedrals. Any cathedral you could possibly see in Russia would be worth it, Russians don't do anything by halves and, like the metro stations, each cathedral is incredibly unique, and in no way plain. And if you think they look pretty spectacular now, just wait until you get inside! You'll find them covered floor to ceiling in amazing artworks and decorations. Even if you don't want to go inside, the pictures you are sure to get from the outside are sure to be amazing and 100% insta-worthy. A few of the more famous cathedrals to note are The Church of the Saviour on Spilled Blood, St Isaac's (both in St. Petersburg), St. Basil's in Moscow (this is probably the most recognisable of all the Cathedrals, you've definitely seen photos before), and the Cathedral of St. Sophia in Novgorod (for those looking for places to hit up outside the major cities).
Kremlin / Armoury – Moscow
The Kremlin in Moscow is definitely another must-see. Located adjacent to the Red Square, "Kremlin" literally mean "fortress inside a city", like most things you're likely to see in Russia it (and the majority of what it holds) is OLD, with the walls being built between 1485 and 1495. Aside from being the official residence of the President of the Russian Federation, it holds 5 palaces and 4 Cathedrals, and includes the famous Armoury building. The Armoury was established in 1851 and holds items from the 5th century all the way through to the 20th, including weapons, jewellery and possessions of the Tsars. Some of the most famous items you'll find here are the Imperial crown of Russia, the Ivory Throne of Ivan the Terrible, the Orloff diamond and several Faberge eggs, you'll even get to see the carriage that Cinderella's was modelled off. If you are going to go to one museum in Russia- this has to be it! Entry is very controlled, and you have to book a time to go, so it is also not as busy as many of the other tourist sites.
Red Square / Lenin's Mausoleum
The Red Sqare is one of most well known attractions, and is the top tourist site in Moscow, perfect for travellers on a budget (whether that be money or time). The square often holds site to various festivals and markets and with St Basil's Cathedral, the Kremlin, Lenin's Mausoleum and GUM department store all in the immediate vicinity you can spend as much, or as little, time here as you want.
Visiting Lenin's tomb is something that also comes as highly recommend. The Bolshevik Leader has been on view since his death and embalmment in 1924, so fair warning, it is an incredibly eerie atmosphere inside the mausoleum. There is always a long line, but it generally moves relatively quickly, as you are not allow to linger once inside (straight in and out), and, it is also free. There have been talks this past year of making plans to finally bury Lenin, so this could truely be a once in a life time experience.
GUM Department Store & Ice-Cream
You'll find GUM department store across many cities in Russia, however, its most famous is in Moscow, right by the Red Square. There are very few things in this shopping centre that I could actually afford, but it so cool to wander through, definitely a step up from your local Westfields. Water fountains, fruit stands, and their signature Russian ice cream (for $0.50 each!) around every corner, browsing through the centre is a lovely way to spend your afternoon, or to make a quick lunch stop.
Image Source: International Traveller, World For Travel, Liden & Denz