Christmas is upon us and while some are ready and raring to get on with the festivities, some are scrambling for gifts to get their loved ones (me, I'm doing that). Well thank goodness for the beautiful convenience of Christmas markets, providing you with wonderful gift ideas to make it look like you had everything under control this entire time.
Brisbane
What: Christmas Village Markets
Where: South Bank
When: 15th Dec – 23rd Dec 2017
Time: 3pm – 10pm daily
Here you'll find Christmas gifts take all shapes and purposes, perfect for last minute finds. There are homeware options, along with fashion, toys, jewellery, and even stationary. You'll also be able to pick up a few snacks for your dinner table. Gift wrapping is available to cater to your lack of wrapping skill (that paper to present ratio is tough to get perfect, it's the thought that counts, right?), and those who love crisp looking gifts under the tree. A gold coin donation is all that's required, easy peasy.
Sydney
What: Christmas Fare
Where: Hyde Park Barracks Museum
When: 14th December 2017
Time: 4pm
This market is super convenient to either walk or travel to, meaning your afternoon can be spent the right way – soaking up the sun with a beer in hand, surrounded by Christmas festivities. There are 40 local venders that specialise in your little food additions like chutneys, pickles, meats, plenty of teas and chocolate (there's more food, trust me), perfect for a late afternoon tea table spread (just add wine). Makers and retailers will have other cute stocking filers and gifts for you to pick out. The Christmas markets will also have your dinner and drink needs sorted with goods like Chur Burger and Young Henry's.
Melbourne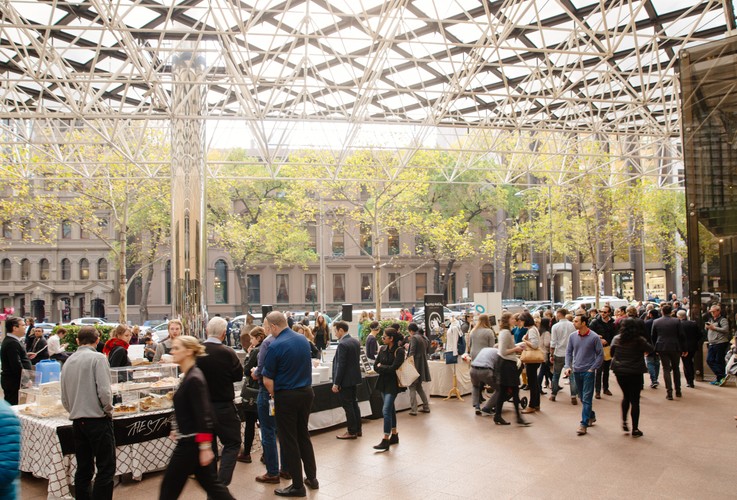 What: Collins Place Design Market
Where: Collins Place
When: 15th December 2017
Time: 10am – 6pm
If you're like me and haven't bought any gifts yet (I wish I was joking), you'll be needing lots of choices in the one place. Never fear, this design market has all the bits and bobs you could want, all conveniently at your fingertips. There are 60 makers, artists and designers who are taking part in bringing you present options by the hundreds, with bohemian jewellery, candles, cakes and more. To give you an extra kick in your step, there will be a Brown Brothers pop-up bar for your relaxation and summer vibes.
Adelaide
What: Leigh Street Christmas Market
Where: Leigh Street
When: 16th and 23rd December
Time: 8am – 2pm
Soaps that will make you feel like a newborn, fragrant candles, textiles you want to keep touching, art, jewellery, French pasties, sweets and terrariums, just to name a small fraction of the options. But you know what won't be available? That's right, sadness. These gifts are handmade and locally crafted, which adds an element of authenticity and individuality to your gifts. There's no doubt the receiver will feel special regardless of what you choose. Live music and street food will also be available, if you're wanting to sit back for a bit.
Perth
What: Perth Makers Market
Where: Applecross
When: 17th December 2017
Time: 9:30am – 3:30pm
204 stalls. Yes, you read that right. This artisan Christmas market provides you with all the handmade gifts you could want for family and friends, while supporting local makers who specialise in their unique trades. They'll provide you with art, candles, beauty things, clothing, jewellery, homewares, food, the list goes on. The location is also on the water so you'll be able to sit in the sun, admire the view and munch on something from one of the food stalls.
Canberra
What: Old Bus Depot Markets
Where: Old Bus Depot, Kingston
When: Weekends Before Christmas
Time: 10am – 4pm
If you're looking some hand-crafted goodness, the Canberra Old Bus Depot Markets are made for you, friend. Featuring 200+ stalls, the markets at the Old Bus Depot in Kingston set a fab Chrissy mood. Whether you're buying for mates and/or relatives, or just keen to get in the spirit, these markets in the nation's capital will get that festive cheer going.
Image Sources: James Horan, Eventfinda, Perth Makers Market