Sydney has recently been blessed by a sinfully delicious trend that has late night food hawkers city-wide salivating – the glorification of greasy food. Time Out and Concrete Playground lists were once prime luxury real estate, reserved only for the fine dining restaurants and swanky hotel bars among us. Now, thanks to the rise of gourmet junk food, vendors everywhere are dedicating their kitchens to burgers, fried chicken or the humble slice.
Whether you're looking for an authentic family-style atmosphere or something to soak up those whisky soda's ASAP, here are the top five places in Sydney to get a *pizza the action.
(*Only pun, I promise).
#1 Da Mario, Rosebery
Settled in the up and coming Saporium marketplace in Rosebery, Da Mario's has long been hailed for having some of the most classic pizza in town. You'll find the full shebang if you go for a sit-down meal, offering antipasti, penne, pasta and their famous pizzas. If you opt for take away – it's just the pizza that populates the menu, and it's all that you'll need. Just don't ask to change anything. They've gotten their recipes down to a fine art, and they ain't budging for your slight distain of scamorza.
#2 Maybe Frank, Surry Hills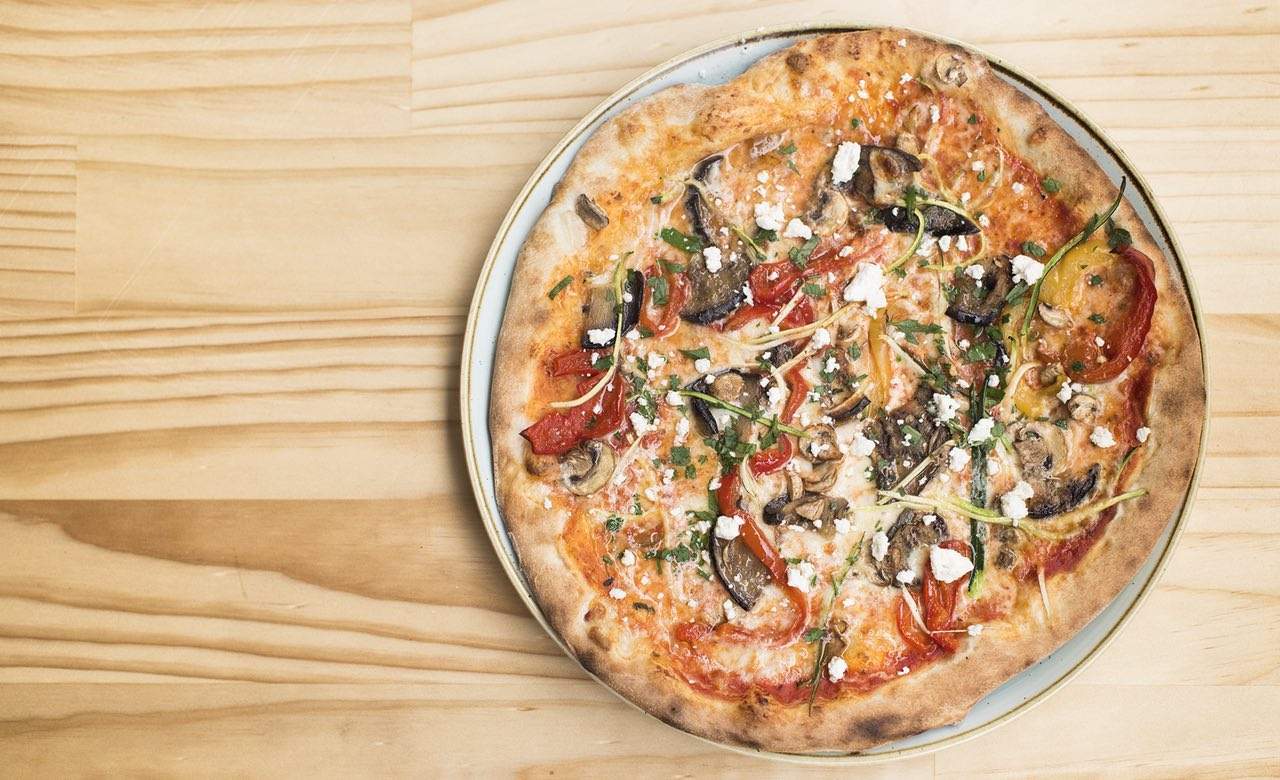 This transitional woodfire pizzeria nestled in the heart of Surry Hills has something other contenders do not -a lively atmosphere built around an open bar. You'll be surprised at how gleeful you'll find being greeted by a barman with a thick Italian accent, his fingers placed at the ready to pour, grasping the side of an Aperol bottle. This experience is best enjoyed with an aperitif in one hand and a slice of Zola in the other.
#3 Gigi, Newtown
The good folks at Gigi take pizza seriously. They adhere to the incredibly specific regulations of AVPN – the "Associazione Verace Pizza Napoletana" or "True Neapolitan Pizza Association" – because apparently, that is a thing. That means you can expect hand stretched dough, classic recipes and a wood fired oven. And pizza served just how it would be in Napoli. Like Da Mario's, you'll be able to find other Italian favourites. The whole menu is entirely vegan too, making for astoundingly creative combinations. But really, if you're trying to be healthy, an Italian restaurant is not the ideal place for you.
#4 GPO Pizza by Wood, CBD
The GPO building in Martin Place may seem like it's out of your price range, and that's because it generally is and you should consider getting a loan before you book a restaurant there. However, you will find GPO Pizza by Wood quite reasonable. The ground floor of the building is actually more of a food court, so seats are hard to come by. But, if you're willing to take your meal home or away, you'll find a similar deal to Gigi. Authentic traditional Italian Pizza with fresh dough, and a thin crust.
#5 Frankie's, CBD
It would be a pizza list without the crown of Sydney's late night doughy feeds. These guys may have taken a hit these past couple of years after the lock out laws took place, but they still do pizza by the slice till (almost) close. For a mere six dollars, you can get a jump on your inevitable hangover, with classics like the Capriosca, as well as the politically incorrect Vatican Fiddler.
And one bonus mention to a newbie on the block serving up Chicago style deep dish pizza, Johnny Fontaine's in Darlinghurst. The Godfather inspired eatery is more than just their slices, with a quality selection of cocktails and a gangster's lounge upstairs. If you haven't been stateside, try the Chi town special for yourself. Accent not included.
Image source: Concrete Playground, Da Mario, Broadsheet, I'm Still Hungry, Gourmatic.