Before you scream that it's just another tourist hub, overrun with token hippies and dreamcatchers billowing in the wind, Byron Bay has a lot to offer. It's more than just it's persona, it's coastline, but together it's charming in it's own right. It's a fusion of ethical enclave, chiller coastal stop, with an ode of sophistication. So no matter your travel style there's something new to experience.
The locale is a summer dream, enchanting visitors and residents alike. Think local is the mantra here, a collective bound together by their love of shared success. So swap your Bali escape for something a little more rewarding. Done all that? Here's the off the well worn path options for the returnee or seasoned traveller looking for new finds.
Swap Nimbin for The Channon
If it's small town charm you're after then stray away from Nimbin and towards The Channon. There's still that rainbow essence but without the hordes of tourists, and the views are impeccable.
Swap Minyon Falls for Killen Falls
It seems no one is listening to TLC because it's the attraction of the moment. Swap the full pool of Minyon Falls for little now Killen Falls. Look up at the lush natural surrounds as you swim. Bliss.
Swap paddle boarding for kayaking
No this isn't school camp, but kayaking is a superb way to see the coastline. Ditch the stand up paddle boarding for a ride closer to earth and cruise by marine animals and endless blue vistas for a day. Not a bad way to travel.
Swap backpacker haunts for The Bolt Hole
Come summer or festival season, every bar will be brimming with a mix of backpackers and urbanites. If you fancy a time out in a newer venue, hit up The Bolt Hole. A self proclaimed refuge from the bustling streets you'll be able to drink and mingle with a more select crowd.
Swap the lighthouse walk for Boulder Beach
A national treasure the easterly lighthouse walk, but unless you're gracing it's shores early morning, you'll be hard pressed to get that Insta shot you've been dreaming about. Instead head to Boulder Beach, a rocky shoreline that looks across the ocean, perch yourself for a shot worth framing. Seriously stunning.
Swap Tallows Beach for White Beach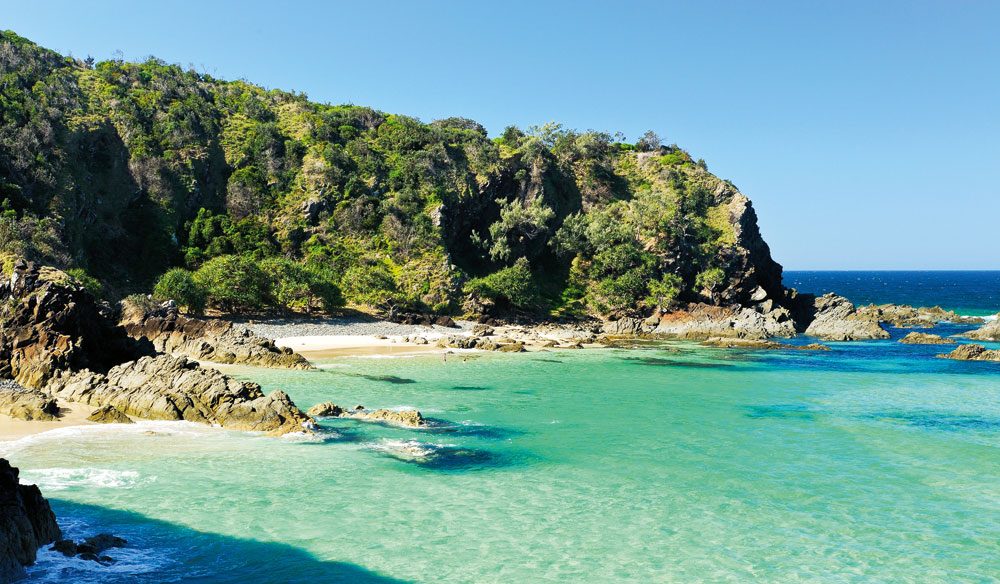 Now this one isn't technically a secret, but accessibility means that it's still a hidden gem. An off road drive then a steep climb down weeds out leisure travellers. But it's worth the trek, you'll be gifted with a secluded cove with little surrounding people. Win.
Swap main street for vintage finds
For all the bohemian stores and eclectic trinkets, major brands have capitalised on Byron's hip status. If you're after something a little more unique, hit up the vintage and antique stores around. Our pick is Miss Brown Vintage, with enough denim to overwhelm a first time thrifter. Or perhaps it's the woven delights of Marrakesh you're after, take home a vintage rug or two to brighten your day upon your return. Marr-kett has the vivid offering for you.
Shop the Top Shop for Belle General
Locals around here are early risers, so breakfast set moves in early on; it's just not worth facing the crowds sometimes. Swap your blogger fave for a sensational alternative, charming The Belle General is a one stop shop. Literally. Cafe meet store, or drop in for a takeaway bite, whatever you please. But if you are stopping by make sure to have a peak inside too, the decor is wonderfully refined.
Swap The Beach Hotel for The Rails
So you're in town for a big one, look no further than the Rails. A locals haunt known for it's rowdy nights and endless evenings. No glitz, just pure unadulterated fun.
Swap Tea Tree Lake for Belongil Beach creek opening
Where freshwater meets the ocean, the trickles of Belongil Creek make for a secret swim spot. Take in the bush surrounding as you float, and you won't have to battle for a spot in the water. Lie back and relax.
Swap hinterland wines for Byron Bay Brewery
Recently refurbished, the Byron Bay Brewery is bubbling away again. Craft beer made from local produce and sustainably source, nailing the true essence of Byron in every pint. It's brewed on site so pop in for a meal and experience the process for yourself. Cheers to that.
Swap souvenirs for DIY
Souvenirs your usual thing? Bypass the tacky surfboard trinkets or the hippie paraphernalia and instead to the DIY variety. Perfume by Nature lets you brew your own botanical perfume, from essence to take home bottle. A unique scent you can cherish for long to come.
For the sportier set, Munro Surfboards wittles and shapes immaculate surfboards that are almost too good to ride. Don't worry they're not just for show, but they are lovingly hand crafted. What better symbol of your trip or a superb gift for your shackas wielding compadres.
How many have you been to?
Image source: Nomads, The Drifter, Echo Net, The Krumble Empire, Australian Traveller, Early Bird Photography, Lisa Tulk-Snow.