A time when food colouring was thrown about freely, sugar content was irrelevant and the flavour combinations were absurd. The diet of a 90's kid perhaps wouldn't stand up to todays standard, but boy was it delicious. In case you have a birthday party coming up or perhaps you're just feeling a little nostalgic we've collated the recipe book of childhood dreams.
Rollups
Stuck in your teeth well after recess, but the pain was well worth the taste. It was the closest thing to lollies Mum would actually pack in your lunch, and a hot commodity on the playground. Remember the pain of trying to share it amongst friends, tearing it apart strip by strip? Well make enough so it's not an issue! Bonus this grown up version is certainly healthier, have a go for yourself here.
Sherbert Cones
They looked like ice cream cones, but they were deceptively more delicious. Loaded with Wizz Fizz and marshmallow fluff on top speckled with hundreds and thousands, sherbet cones were surprisingly delicious. No need to visit the corner store for one of theses babies, just whip it up yourself and tuck in whenever you see fit, with this recipe. That's what being an adult means, right?
Butterfly Cakes
When birthdays rolled around cupcakes were the celebration of choice, easy to share amongst the whole class and just as easy to devour more than your fair share. Butterfly cakes were particularly special, carving out the cake in the middle, filling it with cream and sometimes jam, then sandwiching it all back together. We used the cake as little dippers too, you're not alone. Follow the recipe here.
Pizza Pockets
An after school treat that often scalded your mouth, but you're better equipped now. A poor man's calzone? Maybe, but delicious all the same. They marketed it as a portable treat but that just wasn't the case if you wanted to enjoy the oozy cheese and pizza sauce. As your tastes have expanded, fill these pizza pockets with whatever you please and use the original recipe as a base. Gourmet and nostalgic, yum.
Mac and Cheese
It may seem obvious but nailing mac and cheese is much harder then it seems. Easy mac or Kraft's boxed delight had a certain taste that was especially delicious. Creamy, gooey and all too cheesy, this recipe is better than the packaged versions but strangely familiar.
Dunkaroo Dip
When a beloved snack is discontinued, often you think you'll never get to taste it again. Hello, when Australia recently freaked out over losing OG Shapes. While we may not have the power to bring back Dunkaroo's, we do have the next best thing. A recipe that nails the light fluffy dip and understands the ratio of biscuit to dip. Win.
Spider
Where the American's have a root beer float, we have the ice cream spider. Taking your soft drink to new heights, with a dollop of ice cream. Frothy, creamy and about as good looking as a drink can get. You know the recipe but spice it up with new flavour or spike it for extra fun.
Pigs in Blankets
Snug as a bug in a rug. Frankfurts were a staple of any 90's diet, with as much tomato sauce as you could handle, a mandatory side. But wrap those tasty little morsels in puff pastry and you have a food hybrid that marries a sausage roll with it's little red cousin. They may not require much culinary talent but oh god are they good. Recipe for success right here.
Lunchables
The perfect packed lunch. There was something so wonderful about the little cubed offerings, so neatly organised too. But what the Lunchables package lacked in nutritional value it made up for in charm. A Bento box for the pickiest of kids. Make your own and snack your way through the day, you can even switch up the meats and cheeses for adult substitutes. Hello brie and prosciutto.
Wagon Wheels
A classic biscuit that was taken away too soon. Jam and cream filling, biscuity crunch and covered in chocolate. Wagon wheels were an after school delight and they are sorely missed. Since they're no longer in the biscuit aisle, make them yourself and make them big like the original.
Potato Smileys
What was then endearing is perhaps now a little creepy. Half smiling, empty eyes but the crispy potato offering is delicious no matter their expression. But take it as an opportunity to explore the full set of human emotions in your fries, you're the boss. Taste the faces for yourself here.
Cosmic Brownies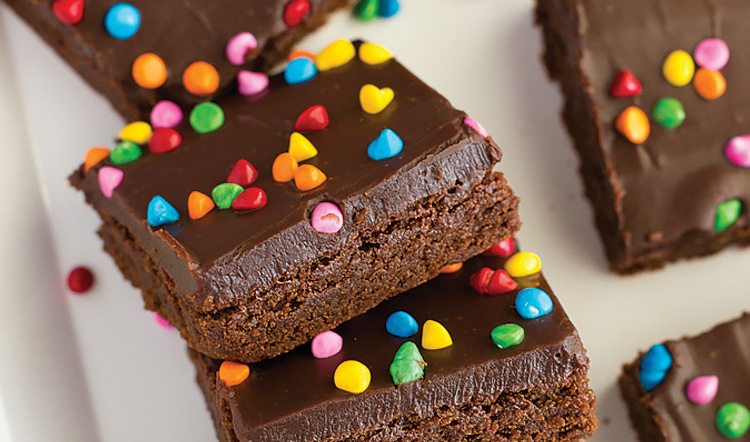 Just regular brownies with a little extra icing and colour? Yes, but at the time they looked almost otherworldly. What we now know about outer space refutes that theory, but they still taste great all the same. Colourful little chocolate nibs, light brownie base and delicious icing holding it all together make these brownies especially yum. Recipe to stellar cosmic brownies? Go on bake a little.
Image source: Divas Can Cook, Sweetness and Like, Cherry Plum Kitchen, Hot For Food Blog, Food Network, Mitzy Can Cook, Mouths of Mums, Cookies or Biscuits, She Knows, Close Encounters of The Cooking Kind, Youtube, Berries.com, Playbuzz.